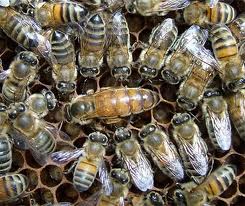 Queens4u
Maximum yield – Most gentle
Over the years I've bred the best queens from Buckfast Breeder queens from Denmark as I've found these to be so gentle and productive. I test for hygenic behaviour in my own Kent queens that are selected over a 2 year process. I'm fully inspected every year by the regional BDI so I offer you the best of British queens at a very reasonable price.
Ordering
Prices
Queen collected by arrangement £42.50
Posted Queen, @ £42.50 plus 1st Class signed £4.50 = £47
Next day delivery will depend on area & cost will be around £8 Plus cost of queen
Saturday morning deliver queen plus Depending on area £14.50
All subject to availability, email me for details on
bees4ujean@gmail.com
I only send queens out Monday to Thursday as this prevents queens being left in post offices over the weekend.
---